Description
K13 Charcoal-infused blue clay
Clay with activated charcoal for detoxifying, purifying and whitening effects.
When used as a clay paste, it makes your skin even whiter, shinier and smoother.
You can also use it as a toothpaste to brush your teeth.
Ingredients: Australian Clay, Activated Carbon
Several Australian clays are blended with E-Conception's proprietary blend.
Action strength index: ★★☆☆☆☆
Main ingredients: kaolinite, smectite
Suggested Use: Face Pack, Clay Toothpaste
Reference Recipe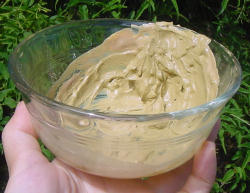 <Skin smoothing pack.
Somehow this pack leaves your skin smooth and glowing. It will also tighten your pores.
1 teaspoon of blue clay with charcoal
2 teaspoons (about 8 grams) of yellow clay (from France)
2 teaspoons of distilled neroli water (about 10 ml)
1 drop of sandalwood essential oil
3 drops of rose essential oil with 3% jojoba
For more information on clay in general, how to use it, recipes, etc., please refer to this page.
<General Information about Clay
Do not use if you have metal in your body (pacemaker, birth control ring, etc.).
Store away from moisture.
For long-term storage, use glass bottles or sturdy plastic containers. Metal, plastic, etc. may be eroded by the clay and alter its quality.
Use caution when using clay baths in self-circulating tubs (tubs with pipe holes). It may damage the bath tub.
Do not reuse used clay. Pour it down the sink or wrap it in newspaper or other paper and throw it in the trash.
Clay is quite powerful. Initial discomfort such as pain, itching, swelling, nausea, depression, etc. may be a positive reaction. If you experience unpleasant symptoms, stop using the product and try again after a while, reducing the amount and frequency of use. If you still do not get good results, consult an expert.
Clay trivia] Blue clay with charcoal (from the E-Conception newsletter)
Blue Clay with Charcoal has already been a hot topic of conversation since its release.
It is the ultimate clay blend combining the effects of fantastic blue clay, Australian white clay, and activated charcoal.
We have developed a new type of clay that detoxifies, purifies, and whitens the skin.
Not only does it contain the benefits of blue clay, but it also contains Australian white clay, which is well known to those in the know. Research has shown that Australian white clay has a much higher cation exchange capacity (i.e., higher mineral content) than French clay.
And the charcoal used is 100% pure activated charcoal made from food grade organic coconut.
It can be used as a clay paste or as a pack to whiten and smooth your skin.
You can also use it as a toothpaste on your toothbrush to brush your teeth.
You can see the results on our Facebook and Instagram pages. You can see the immediate results on Facebook and Instagram.
Due to the difficulty of getting blue clay, we have a limited number available. Please be quick!